---
---
Atami Wilma Large 4 Growing System is a nursing tray with 4 x 18 liter pots that sit on top of its own water reservoir. The system includes a water pump and drippers to feed and water the pots. A digital timer or analouge timer (NOT included) is recommended to set your preferred watering/feeding intervals if required.
Fill the pots with your favorite growing medium and use the included water pump to deliver the nutrient solution through the drippers into the pots. Perfect if you want the familiarity of pots and the increased yields produced by plants fed little and often.
The growing system is light in weight and easy to move. It's very stable in the nursing area which allows the plants to stay neatly upright, even when they have grown to a large size.
Atami Wilma Large 4 Growing System is especially designed for the enthusiastic grower who grows at home!
PLEASE NOTE: The latest Wilma systems have a filterless water pump included in the kit (Something that has not been changed on their assembly instruction sheet yet)
18 Liter System:
Reservoir Dimensions: Top is 75 cm x 75 cm, Height is 20 cm
18 Liter Pots, Dimensions: Top is 30 cm x 30 cm, Height is 31 cm
Total Height (Tray with pots on top): 46 cm
Water/Feeding Solution Capacity: Around 45 lts before the nutrient solution starts touching the bottom gullies of the top cover.
This system's small and strudy footprint means that it can be used inside a 1.0 m / 1.2 m or even 1.5 m grow tent !
Another great way utilize the Wilma system is to use EasyPyamids for your grow, instead of the regular plastic pots, as shown below.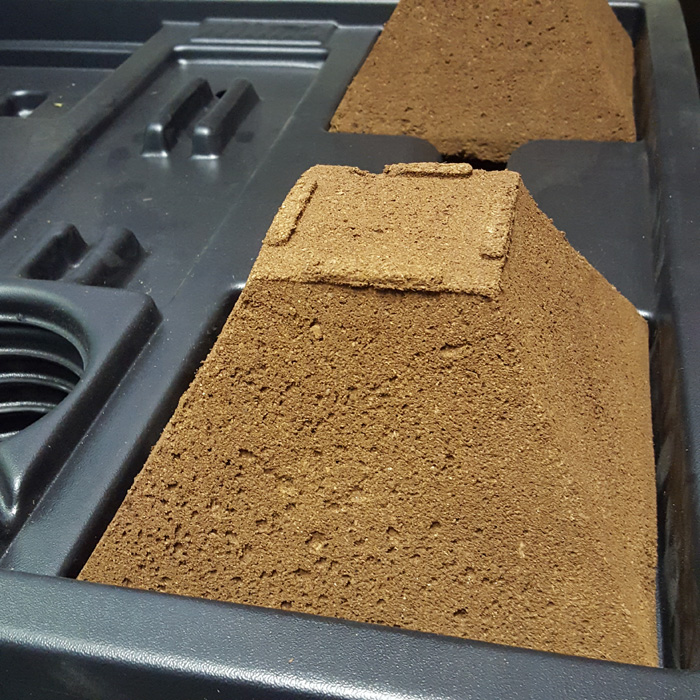 ---